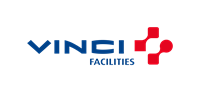 Head Technician - regio Leuven M/V/X
Exploitation, maintenance
Head Technician - regio Leuven M/V/X-57554
Leuven, Flanders
Contrat à durée indéterminée
Secondaire
26/11/2021
VINCI Facilities is op zoek naar een Head Technician voor regio Leuven !
Wat doet een Head Technician? Hij doet het preventief onderhoud, de technische interventies en de herstellingen van verwarmings-, koel- en luchttechnische installaties in gebouwen en industrieën. Hij kan ook verantwoordelijk zijn voor meerdere techniekers met een lagere kwalificatie. Moet voldoen aan de eisen van de klant.
TAKEN:
Helpen bij de implementatie van preventieve onderhoudsprogramma's, volgens een tijdschema die door de lijnmanager opgesteld werd om defecten en storingen te voorkomen.
Bestellen van vervangmateriaal voor dringende interventies.
Diverse reparaties uitvoeren om de goede werking van de installatie te verzekeren.
Gedetailleerde rapporten opmaken, de klanten informeren van de vooruitgangen, de hiërarchische lijn op de hoogte brengen van eventuele aanpassingen aan de installatie of aan de planning om de communicatie te verbeteren.
Dagelijks rapporteren aan de leidinggevende en aan de Service Desk.
Oog hebben voor commerciële opportuniteiten bij de klanten en deze doorgeven aan de leidinggevende zodat de objectieven van de organisatie kunnen bereikt worden.
De veiligheidsregels respecteren en de hiërarchische lijn verwittigen in geval van gevaarlijke situaties.
Coachen en opleiden van andere collega's techniekers.
Opleiding : Bachelor in klimatisatie, BSO/TSO in  warmtetechnieken of gelijkwaardig door ervaring.
Technische vaardigheden: HVAC.
In het bezit van minstens één van deze certificaten :
GI
GII
CEDICOL
CERGA
L
Koelcertificaat cat. 1
Koelcertificaat cat. 4
VCA
BA5
Talen: Nederlands
Pourquoi nous rejoindre ?
VINCI Energies biedt u een professionele omgeving waar u de mogelijkheid krijgt om een heel interessant werk te leveren en verder te bouwen aan uw carrière.  Tevens biedt VINCI Energies u een attractief loon met voordelige extralegale voordelen, zoals :
Camionnette met nodig materiaal.
Smartphone + abonnement.
Tablet.
Verplaatsingsvergoeding.
Maaltijdcheques
Groepsverzekering.
Gratis hospitalisatieverzekering.
Arbeidsduurvermindering : 12 dagen bijkomend betaald verlof per jaar ( vrij op te nemen – geen sluitingsperiode).
Overuren uitbetaald (100% op zon- en feestdagen en 50% andere dagen) en 100% te recupereren.
Ecocheques
Wachtpremie indien deelname aan de wachtdienst.
Carrièremogelijkheden en opleidingsplan.
Collectieve Bonus bij het behalen van de targets.
Kortingen bij onze partners.
VINCI Facilities wil  een weerspiegeling zijn van de Belgische samenleving. We moedigen iedereen aan om te solliciteren (ongeacht origine, huidskleur, leeftijd, geslacht, seksuele oriëntatie, filosofische of religieuze overtuiging, handicap,...)
Entity
À propos de VINCI Energies. Connexion, performance, efficience énergétique, datas : dans un monde en évolution permanente, VINCI Energies accélère le déploiement des nouvelles technologies pour concrétiser deux mutations majeures : la transformation numérique et la transition énergétique. Ancrées dans les territoires, agiles et innovantes, les entreprises de VINCI Energies rendent les infrastructures d'énergie, de transport et de communication, les usines, les bâtiments et les systèmes d'information chaque jour plus fiables, plus sûrs, plus durables et plus efficients. 2020 : 13,7 milliards d'euros (chiffre d'affaires) // 83 800 collaborateurs // 1800 entreprises // 55 pays www.vinci-energies.com